For the second time in its history, Epsilon Net has been recognized as one of the Best Places to Work in Europe. Epsilon Net, having #apartbutstilltogether, as its motto, won the 31st place in a glorious ceremony organized by the international organization Great Place to Work, held on Tuesday, September 21, 2021.
Great Place to Work evaluates and rewards the exemplary work environment of more than 3,000 companies, in more than 36 countries in Europe. The list of Europe's Best Workplaces awards is compiled after an anonymous survey in which employees are asked to rate the company they work for a range of topics about the key factors that create great workplaces for everyone. It is a recognition of particular importance since the European survey of Great Place to Work involved more than 1 million employees.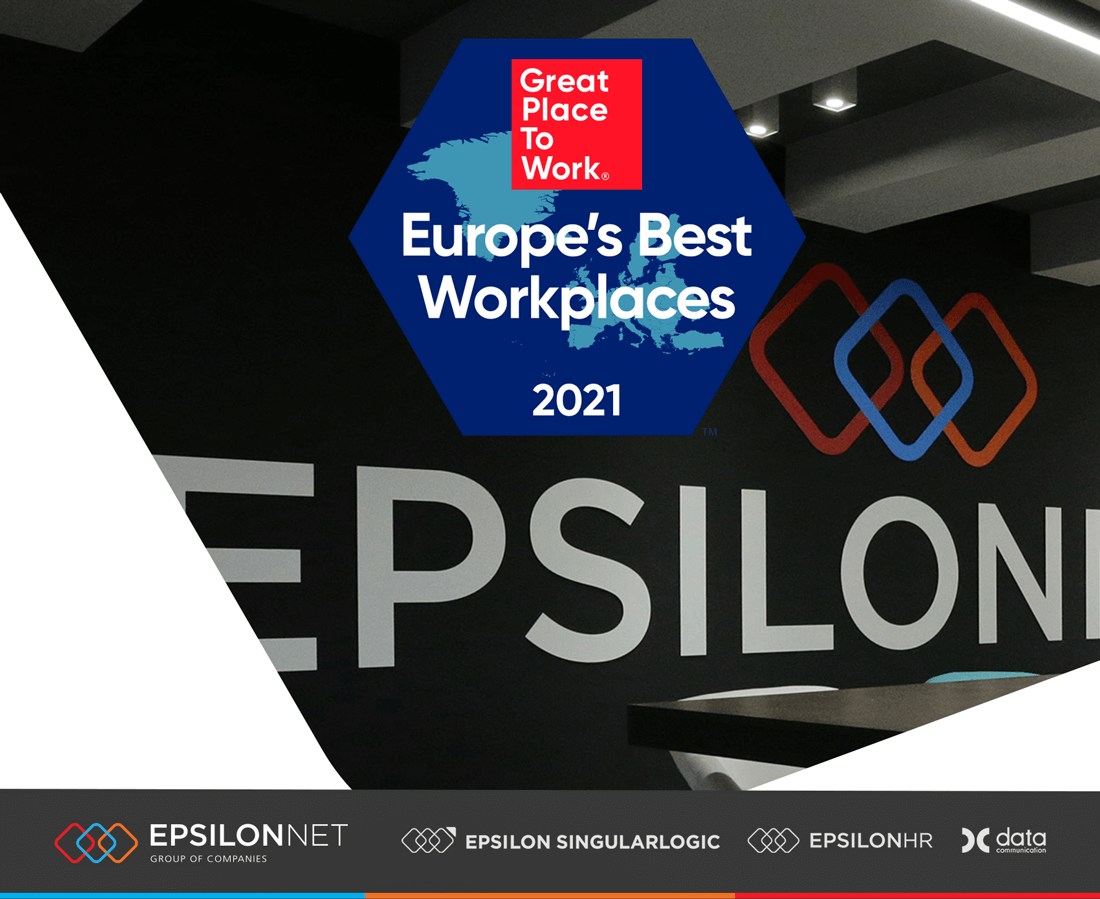 Companies are also evaluated for the way all employees experience their workplace, regardless of who they are or what they do. As expected, this year, COVID-19 brought physical and mental well-being to the forefront for both employers and employees. The company focuses on the many-sided development of its people, providing them with an excellent working environment that exudes a sense of security and creativity, allowing them to evolve and excel. To this end, Epsilon Net has implemented a series of actions and benefits, thus recognizing their contribution to the overall success of the company.
Epsilon Net Group, leading the Greek IT market, produces business accounting software for companies, ERP systems, payroll applications, while it is also active in the field of digital content, knowledge management systems and specialized education. The company's products based on cloud and web technologies are at the heart of modern businesses and lead their digital transformation. This distinction is the culmination in a particularly important year for Epsilon Net, during which through significant acquisitions and continuous growth, it establishes its presence as the largest Software Group for businesses in Greece.
It is worth noting that this is the 2nd distinction of Epsilon Net in Europe and the 9th distinction in total in the Best WorkPlaces institution both in Greece and Europe, for equal participations since 2015.
Mr. Ioannis Michos, President and CEO of Epsilon Net Group of companies, stated: "I am really proud for this Pan-European distinction. Our high ranking reflects the embracement of the corporate vision, the absolute identification between the company and its people regarding the company's goals and the establishment of a working culture that meets the challenges of technology worldwide in a completely human-centered way. At the same time, it justifies our great effort, during this very important year, for the Group and its people and confirms that we all work TOGETHER daily with passion and unselfishness to create an ideal working environment. Thank you all for your daily passion and commitment to the corporate ecosystem that consists of people and values, called Epsilon Net Group. It is with great pleasure that I dedicate this award to all the employees as a whole and to each one, being the cornerstone of our success, with a commitment to continue our development course even more vigorously, always with respect for human needs, in a creative path of success and prosperity both at corporate and individual level".