Epsilon Hospitality, the subsidiary of Epsilon Net Group that specializes in the sector of Hospitality, won two new significant distinctions at the Tourism Awards 2022, affirming once again the Epsilon Net Group's persistence in its goal for innovation and high-quality solutions.
Epsilon Net received:
Silver Award in the Cost-saving Technology category
The Elite City Resort Hotel chose PYLON Hospitality Suite for its digital upgrade. The project was awarded for its contribution to the radical reduction of the hotel's operating costs.
PYLON is an app platform that integrates all the systems a hotel like Elite City Resort needs and monitors them through a single and innovative management system. The hotel management utilizing the capabilities of a multifunctional PMS such as the PYLON Hospitality Suite integrated the functions of the hotel departments, while ensuring the automatic exchange of information between the departments. A significant advantage of the chosen solution was the initial competitive investment cost, as well as the annual support and upgrade cost, which was significantly reduced compared to the previous system.
Bronze Award in the Best new solution for tourism category
Epsilon Smart Philoxenia has emerged as the ultimate solution for the modern business in the sector of small accommodation. Epsilon Smart Philoxenia has a unique competitive advantage as its design and completeness serves the daily operation, pricing and reservation monitoring. Another important advantage of the cloud-based application is the online interconnection with both myDATA platform of AADE and the accounting management application of the accounting office that cooperates with the tourist unit.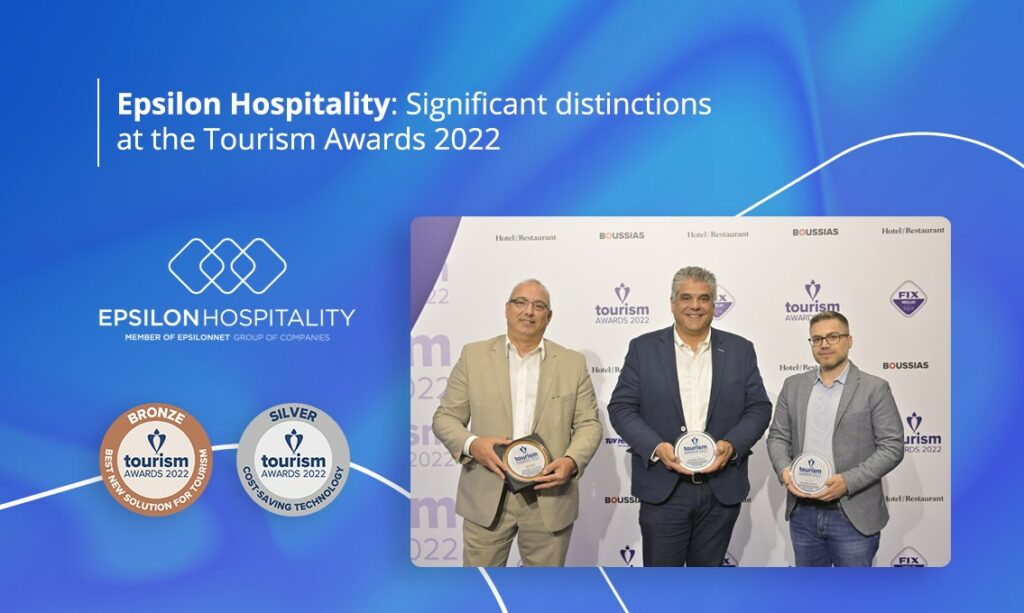 The awards were received by the representatives of Epsilon Hospitality, Mr. Anestis Kotsis, Support Services Manager and Mr. Antonis Sakelis, Epsilon Hospitality Account Manager, as well as Mr. Nikitas Kartsonas, CEO of Elite City Resort, whom the Epsilon Net Group warmly thanks both for his presence and for the excellent cooperation.