The value of Human Resources and the integrated policies of the management of Epsilon Net Group for its development, were rewarded for yet another year. The Group is included by the internationally recognized organization Great Place to Work for the 8th consecutive year, among the companies with the best working environment in Greece, winning the 4th place in the category of companies over 250 employees.
Under the motto "Our People are our Strength", EPSILON NET received this important distinction in the institution, proving the timelessness of its human-centered management strategy and the emphasis on the values of trust, cooperation and creativity, as the Group now has 8 national and 2 Pan-European distinctions.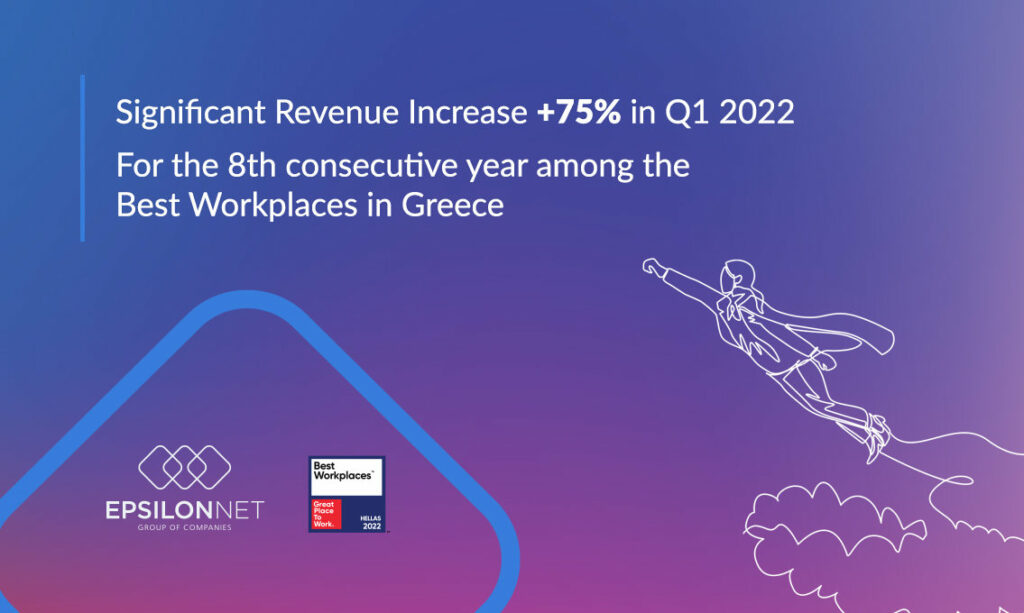 This distinction is the vindication of the Group's Management's commitment to employees, executives and their families for the continuous improvement of the working environment. The Group invests over time in the personal development of its employees, in the continuous strengthening of their knowledge and skills, while at the same time it offers a comprehensive reward framework. The Management's constant commitment is to provide an excellent working environment aiming at a sense of security and the development of creativity, allowing employees to develop inside the Group's companies with stability and on a long-term basis.
The new distinction is of great value since it came as the culmination of a particularly important year for the Group, during which the significant acquisitions and the continuous growth, consolidated its presence as the largest Business Software Group in Greece with over 1000 trained executives.
The promotion of the value of Human Resources is also the basis for the achievement of all the strategic objectives of the management for 2022 and is an important success factor for the Group's leading position in the digital transformation of the private sector of the Greek economy, which is expected to accelerate further in 2022 and 2023, taking advantage of the significant support of the Recovery Fund that has already begun and is expected to intensify in the second half of this year.
The Group has started the year impressively, achieving in the first quarter of 2022 a sales increase of 75% compared to the corresponding quarter of the previous year, a fact that fully confirms the initial estimates of the management (increase of +50% in annual revenue compared to 2021 and EBITDA margin on an annual basis of +30%), proving the Group's dynamics in all the markets which operates, while at the same time, with the tools of strong results and financial liquidity, continues its course with strong pace and dedication to its investment plan, for growth in Greece and abroad.