The parent company of the EPSILON NET Group, after the successful completion of the relevant audit process and the decision of the Board of Directors of the Information Society, was officially certified as an "Certified Supplier" for the "Digital SMEs Tools" and "Digital Transactions" programs in the context of the "Digital Business Transformation" action, supported by the Recovery and Resilience Fund.
The Recovery and Resilience Fund provides an excellent support framework for the Digital Upgrade of the country's very small, small and medium-sized enterprises. Greek businesses have the possibility, by receiving a 90% subsidy in the form of electronic vouchers, to proceed with extremely simple procedures in the procurement of modern digital tools and services.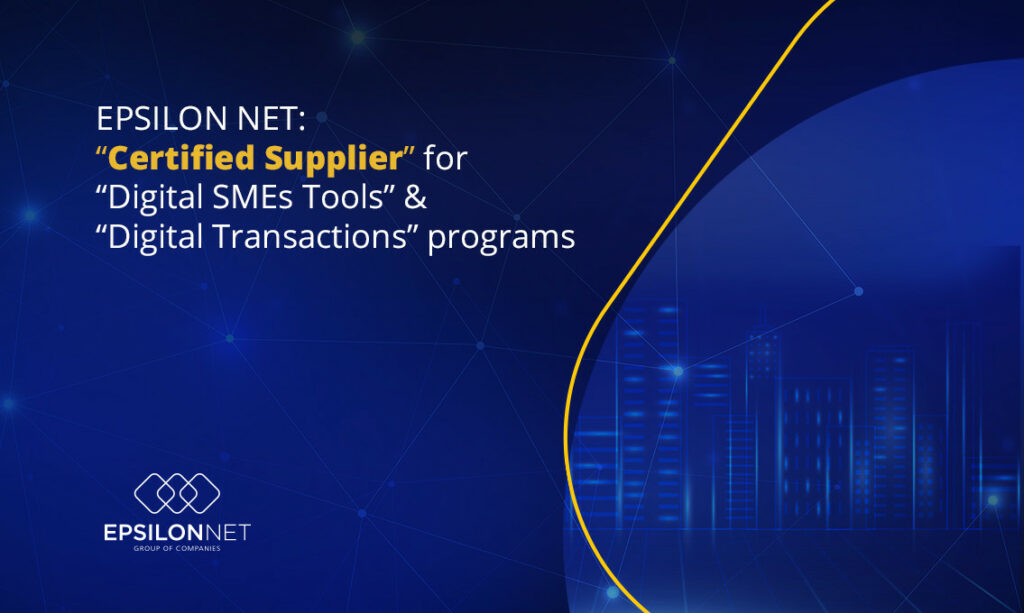 As part of the program, EPSILON NET Group offers a comprehensive range of products and services to businesses, with the aim of actively contributing to the acceleration of their digital upgrade, which includes:
• Information on the program & consulting services on eligible costs and the application process
• Integrated IT solutions, according to the specific needs of each business, in the following areas:
Operations Improvement Solutions: E-Invoicing Systems for businesses, Commercial Management, Business ERP/CRM Systems, HRM/PAYROLL Systems, Specialized Solutions for Accounting Offices, Hotels, Tourist Accommodation, Catering Services, Retail Businesses, Pharmacies and Pharmaceutical Warehouses.
Collaboration & Productivity Solutions: Support for remote work through the MS Office 365, Applications for Automation and Digitization processes
Security & Trustworthy Solutions: Integrated Security and Business Continuity Solutions, Digital Signatures,
E-Business Systems: e-Shop development tools, E-Commerce Systems
• Systems adaptation services according to the needs of the business and staff training in order to use them
EPSILON NET Group, as the leading provider of Business Software systems and E-Commerce solutions, continuously invests in the development of innovative products & business partnerships, with the goal of providing its clients with consulting services and integrated solutions for their Digital Transformation (and the acceleration of its support by the programs of the Recovery and Resilience Fund, in accordance with the Development Law and the NSRF 2021-2027).
For more information, please visit https://voucher.epsilonnet.gr.
Regarding the programs of the action "Digital Business Transformation" of the Recovery & Resilience Fund.
The "Digital SMEs Tools" Program, amounting to €180,000,000, provides support of amounting to 90% via a voucher, (a digital cheque in the form of an eight-digit code), which will be issued for the benefit of the beneficiary business and will be used exclusively for the purchase of digital tools and software applications.
The "Digital Transactions" Program, amounting to €165,000,000, provides support up to 90%-100%, for the adoption of modern digital tools, which support the processes of electronic payments, x-van billing and supplying "digital" invoicing systems for retail businesses.