• More than 80,000 subscriptions
• FREE interconnection of bank accounts in a single environment
• skroutz-ready solution
• Complete and valid information on tax issues through the Group's specialized portals e-forologia.gr & taxheaven.gr
• 90% Subsidy for all digital tools
Epsilon Smart, the most complete web solution for E-Invoicing and interconnection to AADE myDATA platform for small and medium businesses and freelancers, of the EPSILON NET Group, has already exceeded 80,000 subscriptions, with a continuous growth rate, occupying a leading position in the Greek market. This particular line of products helps any business to directly adopt advanced digital practices across its entire range of activities and take the next digital step through multiple functionalities and interfaces that offer unique benefits to its users.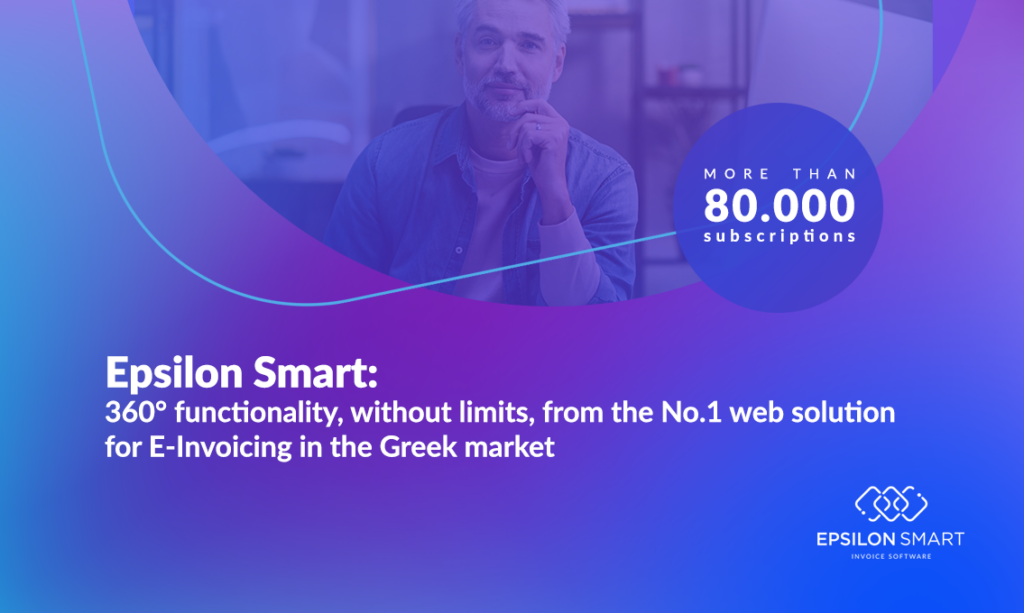 In more detail, Epsilon Smart easily fulfils E-Books obligations, allows the online interconnection with the accountant and/or the bank, the issuance of documents and the organization of company's daily operations, with automatic and continuous updates, without requiring additional investment in equipment. It works in web environment, making the most of Microsoft's reliability and Microsoft Azure's infrastructure. At the same time, it enables online connection to all accounting applications of the EPSILON NET Group, creating a single system with the accountant's applications, without the complex traditional file exchange procedures.
In addition, the solution offers interconnection with the e-banking systems of all banks, directly through the application environment, in order for users to:
• stay updated on the balances and movements of their bank accounts on one screen
• automatically proceed to a customer or supplier remittance from a bank transaction
• easily make remittances, account transfers and invoice payments
• monitor cash flow (account balances, payments, etc.) through a dashboard that is online and connected to their bank*
• match their documents with bank extraits*
At the same time, through the recent strategic cooperation between EPSILON NET Group and skroutz.gr, the largest electronic shopping platform in our country, both Epsilon Smart and PYLON offer the possibility of electronic sales directly through the application, without the need to create an e-shop, providing small and medium businesses with all the tools and automations to be directly productive.
Finally, all users of Epsilon Net Group solutions are provided with comprehensive and advanced services in financial, tax, accounting, labor and insurance issues through e-forologia.gr & taxheaven.gr, this way effectively helping businesses in their digital transformation with complete and valid information.
The significant success of the Epsilon Smart line is expected to be reinforced in the context of the overall planning for the digital transformation of businesses, through the "Digital Tools for SMEs" program of the Recovery & Resilience Fund, with a 90% subsidy (in the form of vouchers), to supply very small, small and medium businesses of the country with modern digital tools & services. For more details, visit voucher.epsilonnet.gr.
*refer to next version functionalities