The Companies of EPSILON NET Group received more than ten distinctions, including the top distinction "ICT Company of the Year", at the "BITE Awards 2022", as a reward for the Group's high technological level and dynamic expansion.
For the 11th consecutive year, the Group confirmed its recognition by the most prestigious awards institution for technological innovation in Greece, receiving a total of 4 GOLD, 6 SILVER and 2 BRONZE awards for the Group's successful development, innovative services and IT systems, as well as the successful implementation of specialized and complex IT projects for companies.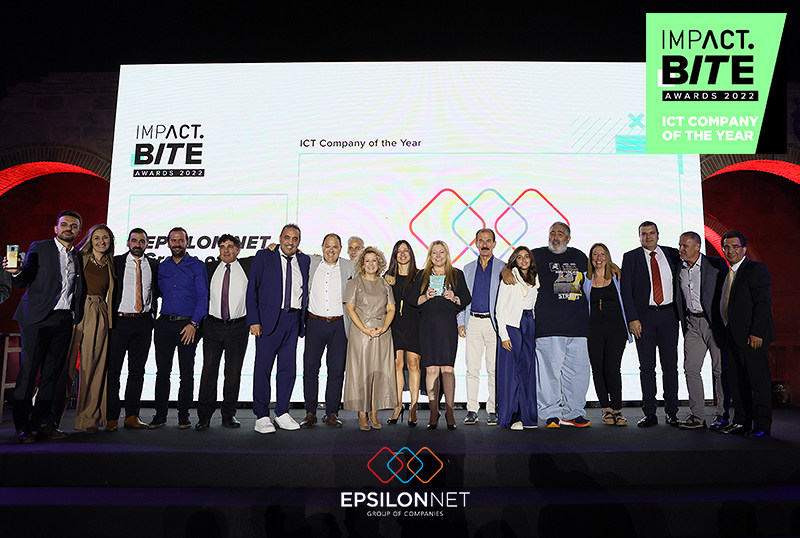 Apart from the top award of the institution, the Group also received the following very important distinctions:
Gold award in the "Software Supplier" category, for the overall participation of the Group as a catalyst in the digital upgrade of Greek businesses
Gold award in the category "Significant Investments and Acquisitions" for the comprehensive provision of business solutions and the continuous development in the IT sector through significant acquisitions and organic growth
Gold award in the category "ICT solutions for Professionals / Small and Medium Enterprises" for the comprehensive TOTAL ACCOUNTING application, which is the top choice for the transformation of Accounting Offices
Gold award in the "Manufacturing / Industry" category for the implementation of PYLON ERP in COLORA, one of the largest industries in the specific sector
The awards for EPSILON NET Group were received by managers of the Group and its subsidiaries, together with representatives of COLORA, REVOIL, RAINBOW, GALLIS, CORAL and SingularLogic, whom the Group's management warmly thanks for their presence, but above all for their excellent cooperation and trust.
Vasiliki Anagnostou, Deputy CEO of EPSILON NET Group, after receiving the top distinction "ICT Company of the Year", stated: "2022 is the 2nd consecutive year that our Group has been honored with the top distinction of the renowned BITE AWARDS institution. The 1,200 employees of the EPSILON NET Group feel particularly proud for all the awards of today's event. Our awards are proof of the high level of products and services we offer to the 125,000 customers who honor us every day with their trust. We promise to continue with the same passion to create innovative digital "all in one" solutions and provide high level services."
I would like, on behalf of the Group's management, to especially thank and congratulate our executives in all the Group's companies for their daily efforts and their contribution to achieving the goal of innovation & operational excellence. We all continue our work together, with vision, passion and a smile."